Road Cases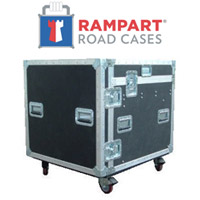 Rampart Road Cases feature industry-leading quality, backed by superior customer service. Each custom road case is designed and built to your exact needs – ensuring that your equipment arrives unharmed.
Manufactured at the Allcases facility, Rampart Road Cases are fully customizable and are not limited to size or configuration. ATA flight case options are limitless – from locks, casters, skids and customer foam to fold-out tables and slant-racks.
All Road Cases are built to order, please contact Allcases for custom orders.