Zero Alumninum Rackmounts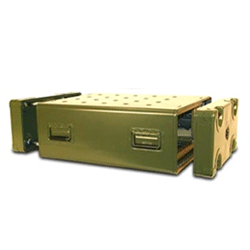 The Zerak® Aluminum Rackmount from Zero is a double entry case designed and engineered to provide a minimum 40G protection for equipment in transit.
A smaller footprint and lighter weight delivers efficiency in transport, usage and storage.  Zero aluminum rack mount cases withstand harsh conditions such as temperature ranges, altitude, rain, sleet, snow, sand and dust.
Zerak® Racks are built to order, and typically ship in 8 weeks.
Product
Rack Depth
U Size
Shock / Non-shock
Material
Brand
9U Aluminum Zerak Rack, 30″ Depth

View