Flat Screen and Monitor Cases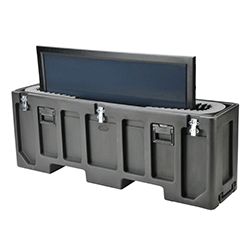 These rugged cases function as a flat screen tv case and computer monitor shipping case. Flat screens and monitors are protected from even the harshest shipping conditions – ensuring that equipment arrives safely over and over again.
Flat screens and monitors are held in an upright position, and the optional foam padding system in these computer monitor shipping cases is designed to easily configure for a customized flat screen tv case for your brand and model. For larger flat screens, visit our Road Cases section. For shipping a complete computer system, visit our Computer Transport section.
Alternate cases are available for LCD/Plasma screens larger than the dimensions listed. Contact Allcases for details.
Universal 24″ – 30″ Flat Panel Monitor Case

REM01Z2430-PC-3

View