Rifle Cases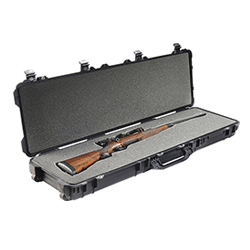 Made of durable injection molded plastic, Pelican hard rifle cases provide unmatched protection for your rifle and accessories.
Pelican hard rifle cases are dustproof, watertight and crushproof.  Foam insert can be cut to fit virtually any rifle make/model and certain cases can fit multiple rifles or rifle/pistol combinations.  Cases feature padlockable hasps and double-throw latches. Allcases also provides custom rifle case foam, ensuring that your equipment fits perfectly in the case.
To view our complete selection, visit our gun cases section.
Product
Product Number
Internal Dimension
Pelican Storm 3410 Long Case

REIM3410

54.50″L x 10.00″W x 6.00″H

View