Rackmount Cases by Type and Model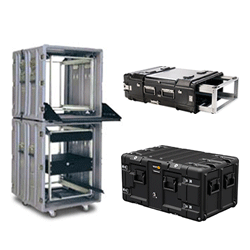 Allcases offers a complete selection of rugged, portable rack case solutions for storing or transporting electronic equipment. The mobile rack mount case product line protects gear from even the most adverse conditions and settings. With many available options/accessories and case customization capabilities, Allcases packaging engineers can provide the best portable rack case solution possible.
Most Rackmount Cases are built to order, allowing for custom add-ons, and typically ship in 4 – 6 weeks. For a Quick-Ship Rackmount Case option, select from Pelican-Hardigg Blackbox Rackmount Cases.