Tool Cases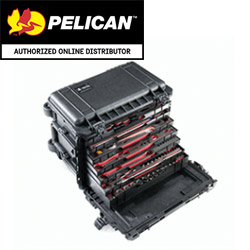 Heavy duty tool cases from our line of Pelican Cases. Pelican tool cases offer a range of options for secure tool and accessories storage and organization.
These watertight tool cases are manufactured from high impact co-polymer resin and feature padlock loops and pressure relief valve.
Pelican tool cases are chemical resistant and meet MIL-STD 4150H for stacking and drop test.
Free Ground Shipping on select Pelican Tool Cases (HI and AK excluded).*
See product page for availability.
Pelican 1460 (Mobile Tool Chest) Case

REPC1460TOOL

18.54″L x 9.92″W x 10.92″H

View