Retour Collapsible Cases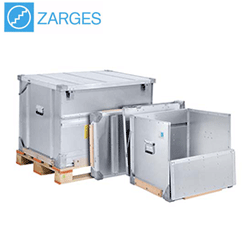 The Zarges Retour is a collapsible metal case. Retour cases ship lighter than any other product – so you can fill it, ship it, break it down and do it again.
These collapsible metal cases can be broken down quickly and easily by one person and feature interlocking profiles with connection locking device on floor pan and side parts. Cases also have a swing-type hinge attached lid to rear wall, stacking corners and are suitable for use on roller conveyors.
Zarges Retour Collapsible Aluminum Cases are part of the Allcases Zarges aluminum case product line.
Product
Product Number
Internal Dimension