K475 Heavy Duty Cases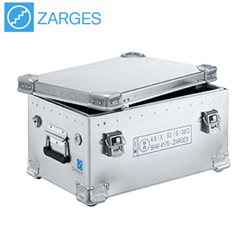 The Zarges K475 Universal Container is a heavy duty aluminum case. K475s are steam-tight, stackable, reusable and offer light-weight yet sturdy protection for a wide variety of items in transit.
Zarges K475 heavy duty aluminum cases are corrosion-resistant aluminum and feature stacking corners on base and lid, removable lid with all-round seal and pressure relief valve with humidity indicator.
This heavy duty aluminum case is part of the Allcases Zarges aluminum case product line.
Product
Product Number
Internal Dimension
Aluminum – Zarges K475 Heavy Duty Case

REZA45141

29.9″L x 14.2″W x 10.4″H

View