Blade Fold Kit Cases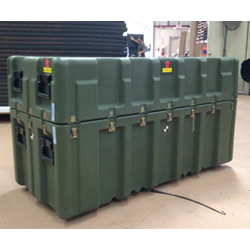 Safe Storage And Easy Access To All Kit Parts.
When it's time to fold blades, you need to be able to quickly find all blade fold kit parts. Our cases provide industry leading protection and organization, and cases feature a custom manufactured, labeled foam interior to ensure that all parts are accounted for.
Foam Interior
Designed and manufactured to fit specific blade kit make and model
Foam labeled for each kit part placement
Kit part inventory sheet and storage plan on inside of lid
Case Shell
Rotationally molded case shell
Molded-in stacking ribs
Reinforced corners and edges
Comfort grip handles
Recessed hardware
Certifications and Testing
MIL-STD-810
MIL-STD-2073
MIL-T-28800
ASTM 4169
Engineering Services
CAD Design
Concept Development & Requirements Analysis
System Design, Engineering & Integration
Quick turnaround for Critical Deadlines
CNC Machining for accuracy and repeatability
Foam Fabrication Using CAD/CAM
Foam Types:
Polyurethane
Polyethylene
Crosslink
Anti Static/Conductive
Flame Retardant