Rotationally Molded Cases Technical Resources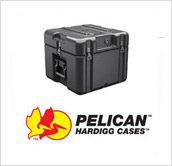 A heated hollow mold is filled with powdered resin and slowly rotated (usually around two perpendicular axes) causing the softened material to disperse and stick to the walls of the mold. In order to maintain even thickness throughout the part, the mold continues to rotate at all times during the heating phase and to avoid sagging or deformation also during the cooling phase.
Customizable Cases: Rotationally Molded Cases are built to order, allowing for custom add-ons, and typically ship in 2 – 6 weeks.
Case Catalogs and Technical Specifications